By The Landlord

"Orange is the happiest colour." – Frank Sinatra
"Orange is red brought nearer to humanity by yellow." – Wassily Kandinsky
Nothing rhymes with orange, other than sporange, a very rare alternative form of sporangium, the botanical term for a part of a fern or similar plant. Perhaps you could half-rhyme it, with bit of a cringe, with arrange, or at a pinch, with syringe, but that's really pushing it.
So why is orange, a word that is big and resonant in the mouth's delivery, also strong in song? Perhaps because of its oddness, because it stands out, because objects, plants, animals, birds, or clothing of that colour are nature's exclamation mark, from the tiger to the tadorna to iguana, canary to oriole, koi carp to flame angelfish, from leaping red (but really orange) foxes and squirrels to leopard butterfly, from paprika to pumpkin, carrot to apricot, mango to marmalade, made of course from the orange, a fruit more commonly in the east, a mandarin. So this week our topic is not just about the word, but anything that is indeed, prominently and undeniably orange.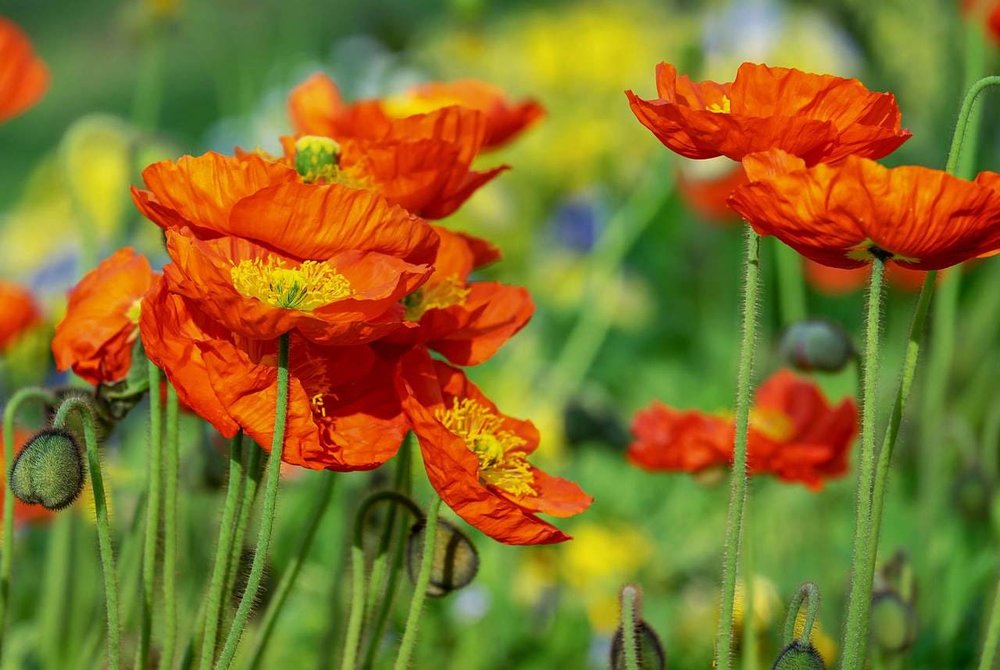 Orange poppies
Orange glows with a warmth, it zings with life. It's a symbol of happiness and fertility. "To go gathering orange blossoms" is a phrase meaning to search for a wife, referring to orange blossoms as wedding decorations. But it can also be about contrast. To compare apples and oranges means to try and highlight the similarities between two different incompatible things – but that surely is a process which is potent and creative in song or any other art form.
"Orange is an underrated colour," says the vibrant film and music video director Michel Gondry.
"Orange strengthens your emotional body, encouraging a general feeling of joy, wellbeing, and cheerfulness," says the martial arts and health guru Tae Yun Kim, originally from South Korea. "The sky takes on shades of orange during sunrise and sunset, the colour that gives you hope that the sun will set only to rise again," announces the Indian film star Ram Charan. "There is no blue without yellow or orange," says Vincent Van Gogh, for whom joy was elusive in real life, but burst out through his paintings.
Vincent Van Gogh's La Cafe De La Nuit (The Night Cafe), Place Lamartine, Arles, September 1888
Orange is the Dutch national colour, from William of Orange the stadtholder of Holland and Zeeland, to the modern national football strip, but is has all kinds of other cultural associations. In European and American culture its associated with joy, frivolity and entertainment, from clowning, as shown in Pierre-Auguste Renoir's 1868 painting and onwards, back to ancient Greek paintings of Bacchus or Dionysus, the god of wine, indulging in ritual madness and ecstasy, and dressed in that hue. Parisian pleasure-seeker Toulouse-Lautrec used a palette of yellow, black and orange in his posters of Paris cafes and theatres, and Henri Matisse used an orange, yellow and red palette in his painting, the Joy of Living. Orange is all about having energy, vitality, cheer, excitement, adventure, warmth, good health, and generally having a good time. It's the colour of orange juice, and also whisky, but also of urine!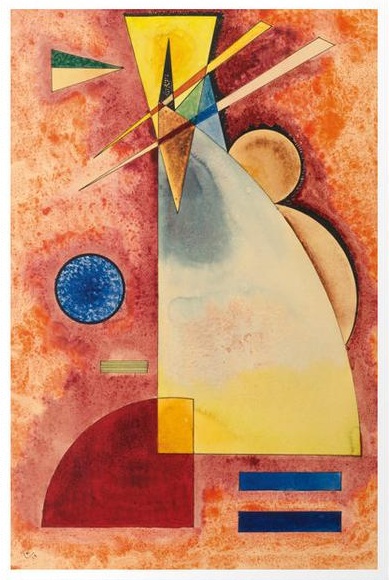 Intermingling by Wassily Kandinsky, 1928
In Chinese Confucianism, orange is the colour of transformation, moving between red and yellow. The colour comes not from the orange fruit, but from saffron, the most prized and expensive Asian dye. So first, yellow is the colour of perfection and nobility; and red the colour of happiness and power. Yellow and red are compared to light and fire, spirituality and sensuality, seemingly opposite but complementary. But out of their interaction comes orange, the colour of transformation. And in Hinduism and Buddhism, orange, and its associations come in a wide variety of shades, from a slightly orange yellow to one that's closer to deep orange red, again as saffron, commonly worn by monks and holy men across Asia.
Buddhist monks
So where does orange begin and end, instead becoming red, yellow or brown? In some ways that's subjective, but scientifically orange is on a a wavelength between approximately 585 and 620nm. But depending on context it is possible to see the colour in all kinds of shades from burnt orange to butterscotch, papaya whip to vermilion, tea rose to half-ripe tomato. The orange colour of carrots, pumpkins, sweet potatoes, oranges, and many other naturally forming foods comes from carotene, a photosynthetic pigment, that converts light energy absorbed from the sun into chemical energy for the plants' growth. In autumn, when the weather turns cold and production of green chlorophyll stops, only orange colour remains, so that explains why that season can be so poetically beautiful.
Japanese maple trees in autumn
In researching the colour of the past day, I've begun to notice it everywhere, but was also surprised to discover that not all carrots are orange. Before the 18th century, carrots from Asia were usually purple, while those in Europe were either white or red. The orange variety we know best, originating from Holland in the early 18th century was bred by Dutch farmers, and is the ancestor of the orange horn carrot. It is even theorised that the English language did not have a word of orange until the fruit was imported in the 17th century.